×
Terracotta Antefix in the form of Pan
400-300 BC
[Shefton Collection 510]

Pan was the god of the wild, shepherds and flocks. Here he is shown with a wavy beard and mass of snaky hair, two animal ears and stumps of horns. Antefixes concealed the end of the tiles on the roof of a Greek temple.
The Quarry Gardens at Belsay were inspired by the famous quarries of Syracuse, Sicily, but Monck did not see these himself until 1831. Sites he did encounter in his earlier journey to Greece, though, may also have provided inspiration. On his September 1805 Attica tour with Gell and Dodwell, he describes extensively the 'Cave of Pan' at Vari, with its dramatic rock formations, sequence of underground caverns lit from above, and rough carvings of man and animal. Like Syracuse, this was a place where 'natural artistry' had combined with and been exploited by human endeavour to create a setting Monck clearly found both attractive and impressive. Interestingly, an inscription found recently at Vari may suggest the cave was part of a sacred garden complex.
Click on the drawings of the artefacts to find out more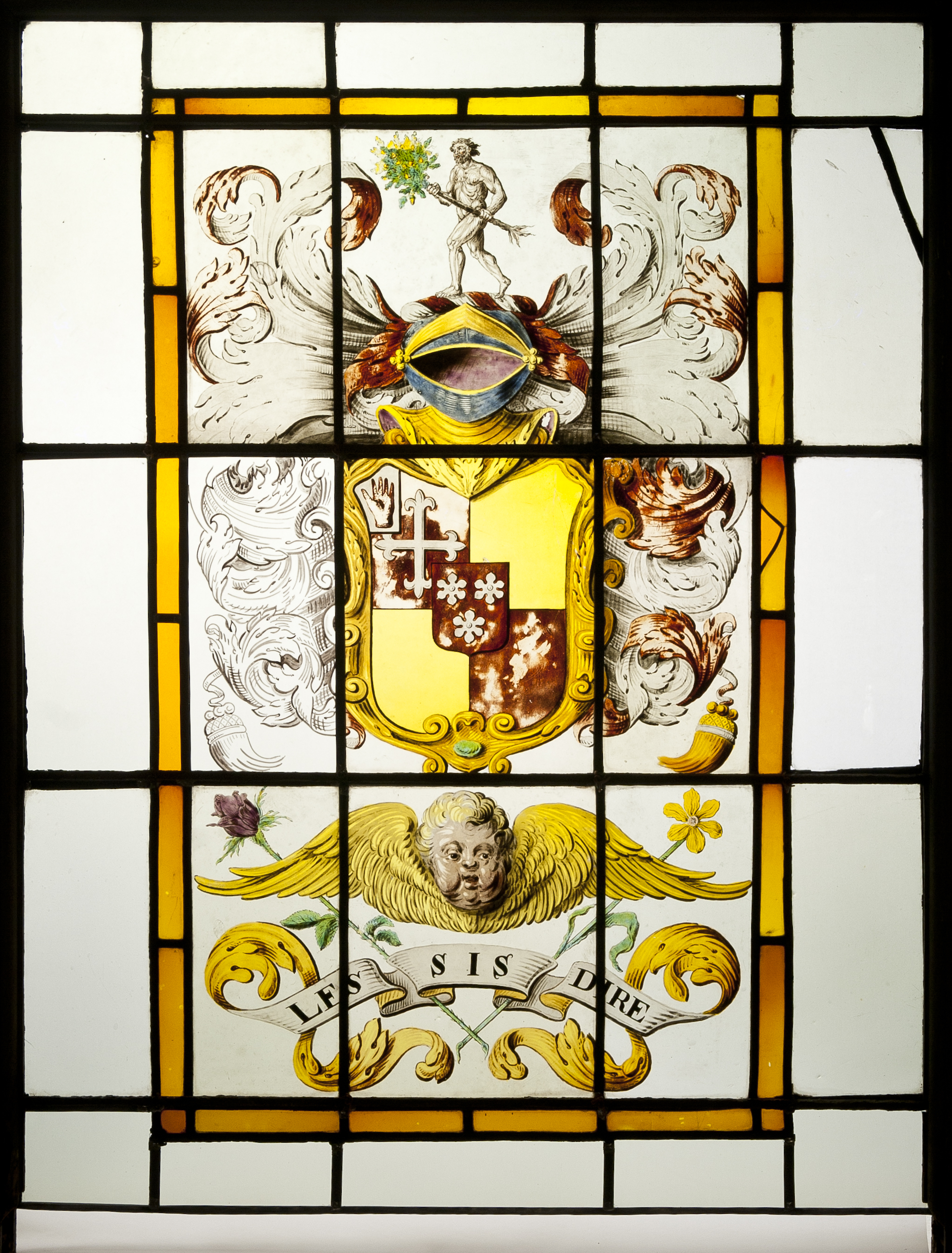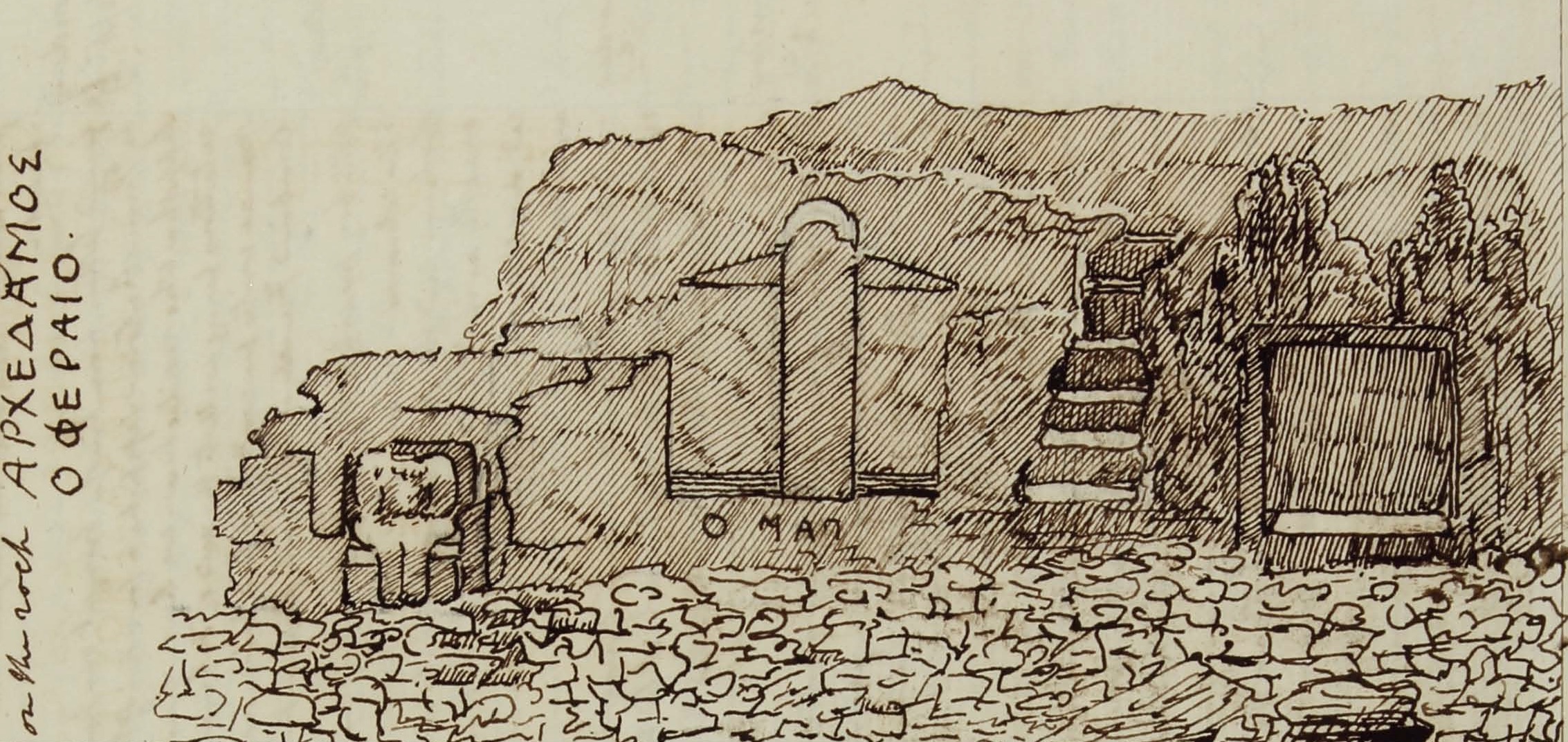 ×



Bronze Statuette of Pan
c.100-50 BC
[Shefton Collection 516]

Monck visited the cave of Pan at Vari. The god Pan is represented as half-man and half-goat. He holds a pointed staff, a wine skin and a bunch of grapes.
×

South Italian Handle Attachment
c.350 BC
[Shefton Collection 65]

This clay handle attachment comes from a volute krater, a large vessel for mixing wine and water. Horns on the crown identify the face as that of Pan. Wild man imagery in Celtic mythology parallels the role of Pan in the Greco-Roman world.
"After breakfast we set out, a priest on horseback going first to show us, up a mountain north of Vari being a member of Hymettus, to the Paneium or cave of Pan."
×

"After breakfast we set out, a priest on horseback going first to show us, up a mountain north of Vari being a member of Hymettus, to the Paneium or cave of Pan. We found it having ascended by a very steep and rugged road — the entrance is a hole 8 or 10 ft. long and 6 or 9 broad of an uneven oval shape. A small fig tree having root in the rock a few feet down below the mouth shoots its branches up through. We descended by the rugged corners of the rock five or six steps, then you see on the wall of the rock opposite you a square incised tablet [...] Opposite this on your left hand a lion's head rudely cut upon a protuberand nob of the rock as large as life [...] Proceed descending a little and turning to the left you come into a broad hall lightened by the mouth of the cave, exceedingly beautiful lined with stalactites forming cane-like flutes and columns against the sides of the rock — on your left a figure of the rudest sculpture reliefed upon the face of the rock in the act of cutting a stone with hammer and chisel. [...] The cave turns round to come to the same hole by which you descended. On the face of the rock by the side of the perpendicular stairs by which you are to reascend PAN ΟR [is carved] under an incised recess and by the side of this a rude figure sitting in a chair. Head wanting. [...] Having staid 2 hours examining the cave and taking drawings in it, Gell and I remounted, leaving Dodwell and Pomardi behind to take more drawings and steered over Hymettus for Athens, which took us 4 hours. The road over the mountains very rugged. All along the plain ruins perpetually of ancient towns."
Click below to listen to this diary entry
of the 8th of September, 1805