×
Silver Coin
525-500 BC
[Society of Antiquaries of Newcastle upon Tyne
326/ID: SNGuk_1301_0326]

Approaching Corinth Monck admired the citadel of the ancient city (Acrocorinth). The mythical winged horse Pegasus was said to have struck the rock of Acrocorinth with his hoof, opening the spring of Peirene. The Corinthians adopted Pegasus as a symbol of the city on their coinage.
The Moncks stayed in Corinth on their journey home (10th–15th Oct. 1805). Sir Charles explored the ruins and admired the "very striking" view of the Acrocorinth heights. Apart from a day's outing to Mycenae, the journal focuses on a sculpted relief wellhead in the garden of the house where they stayed. This is one of the rare occasions where Sir Charles shows detailed interest in an item of classical artwork; he engaged Gropius, Lord Aberdeen's artist, to make a gypsum moulded copy. Frederick North, 5th Earl of Guilford, acquired the original in 1810 and shipped it back to England. In 1827 it passed to the Beaumont family, was moved to their Yorkshire seat Bretton Hall, then subsequently believed to be lost. In 1995 it was re-identified serving as a plant-pot-cum-litter bin (!) at Bretton Hall teacher-training college, and eventually acquired by the British Museum.
Click on the drawings of the artefacts to find out more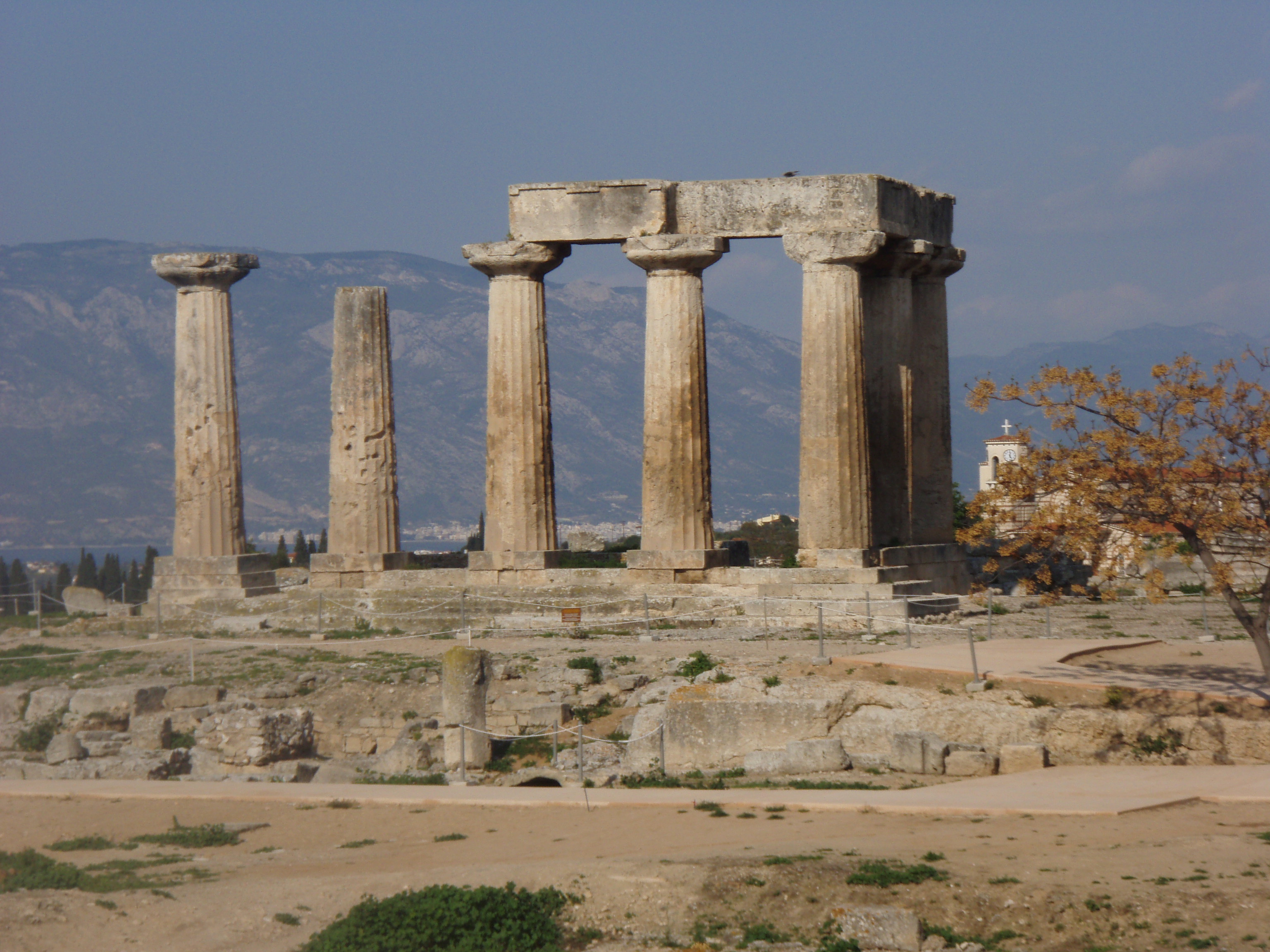 ×
Corinthian Pyxis
c.600 BC
[Shefton Collection 27]

In antiquity Corinthian pottery was widely exported. It typically depicts birds, animals and mythological creatures. On this lidded container, possibly for cosmetics or jewellery, the animal frieze depicts a bull, panthers, a boar and goat – the latter a recurring theme in Monck's travels!
×


Bronze Statuette
400-300 BC
[Shefton Collection 553]

Monck explored the remains of the Temple of Apollo whilst in Corinth. This statuette may represent the youthful god Apollo. Apollo is the god of music, poetry and prophecy.
Sunday 13th Oct.
I have agreed with Mr. Gropius for him
to come from Athens and take me
a mould in Gypsum of Mr. Notara's well.
Friday 11th October 1805
We [Monck, Gell & Gropius] walked after to see the columns – they are of stone in the Town [?], seven remaining – most ancient Dorick — shafts in one piece — 20 flutes — Capitals large and flat — I guess their diameter at near 6 feet — height perhaps 24. In the garden of the house in which we lodged is a well-stone, hollow cylinder on the exterior surface of which are carved 10 Gods in Bas relief of most exquisite workmanship, in order as follows —Minerva, Hercules, a female with robe held up in the right hand, Venus, a female, a man with Iron through him damaged, Mercury, a female the drapery of which is exquisite, Diana, Apollo. [...]
Monday 14th Oct.

Gropius is to have his expenses paid in taking my mould of the well and 5 guineas over for his pains which he says is trop [too much], but I exhort him to do it particularly well.